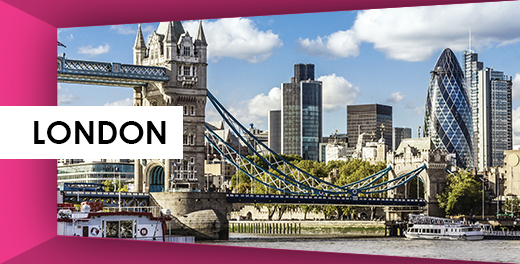 THE VOLATILITY FACTOR: CAREER STRATEGIES FOR UNPRECEDENTED TIMES
POWER: Opening Doors for Women

is pleased to announce its third annual London programme. In the past year, we have witnessed dramatic changes to both the global and local landscapes. As our institutions attempt to anticipate and grapple with the resulting disruption, individuals face the challenge of knowing how to respond at a personal level.(Read More)
3-4 May 2017
Baker & McKenzie


100 New Bridge St.
London EC4V 6JA
United Kingdom



Early Bird Registration:

15 February – 24 March

Delegation of 5: £2,500

Delegation of 10: £4,500

Full Registration:

Begins 25 March

Delegation of 5: £2,900

Delegation of 10: £4,900

---
Economic Roundtable:
Brexit and the World Economy
Open to Global Programme Sponsors Only
Join a small group of leaders for a presentation by Martin Wolf, Chief Economics Commentator, Financial Times and interactive discussion with Martin on the challenges and opportunities ahead for the global economy. From Europe, Africa, Asian and the U.S., the world is experiencing change that will impact business and organisations.

3 May 2017 | 8:30 am to 10:00 am

Sponsored By: XL Catlin


KEYNOTE SPEAKER

MARTIN WOLF CBE
Associate Editor and Chief Economics Commentator
Financial Times

SPEAKER

PAUL JARDINE
Executive Vice President and Chief Experience Officer, XL Catlin
Chief Executive, Catlin Underwriting Agencies Ltd and Catlin Insurance Company (UK) Ltd

---
General Plenary

4 May 2017
Programme Schedule:

13.30–14.00 Registration & Networking

14.00–19.00 Plenary Programme

19.00–20.00 Reception & Networking
KEYNOTE SPEAKER

BRENDA TRENOWDEN CFA
Global Chair, 30% Club
Head of Financial Institutions Group-Europe, ANZ

SPEAKERS

ANTONIA BELCHER
Founding Member/Partner
MHBC


SARAH GREGORY
Inclusion & Diversity Partner
Baker & McKenzie


CHARISSE R. LILLIE
Attorney and Corporate Executive, retired

Corporate Board Director: Penn Mutual Life, Peco (an Exelon Company) and PNC Bank SEPA/SNJ Region

MODERATOR


ELIZABETH PASSEY
Senior Advisor, J. Stern & Co Private Investment Office


Fireside Chat: Views from the C-Suite

MODERATOR


TAMARA BOX
Managing Partner, Reed Smith LLP.

SPEAKERS


MICHAEL COLE-FONTAYN
Executive Vice President and Chairman, EMEA
BNY Mellon


BRIAN KIRWAN
CEO UK, Allianz

Diversity & Inclusion: What Has Worked and The Challenges Ahead

JULIE FOWLER
Assistant Vice President, International Human Resources
AT&T


BIANCA HAMMEN
Principle Architect
AT&T


PAULINE MILLER
Head of Diversity & Inclusion
Lloyd's Corporation

PARTICIPANT ENGAGEMENT LEADERS

SALLY BRAMALL
Chief Operating Officer
Financial Institutions Group
Willis Towers Watson


NICKY BURMESTER
Head of Recruitment for Europe and Africa
Lear Corporation


DISCUSSION MODERATOR

DEIRDRE JOY SMITH
Founder and Chief Executive Officer,
POWER: Opening Doors for Women®
---
Follow us on twitter @POWER_Women and follow the hashtag #POWERinLondon
---